Name: Christina Wood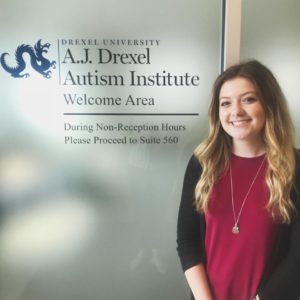 Graduation Year: 2019
Major: Psychology
On-campus involvement: Psi Chi International Honor Society in Psychology, Omicron Delta Kappa National Leadership Honor Society, Golden Key Honor Society, Best Buddies, Animal Benefits Club
Internship: Psychology Intern — Children's Specialized Hospital (Summer 2018)
Describe your role.
As a Psychology Intern, I spent a lot of time in individual psychotherapy sessions talking with patients alongside the psychologist. The patients were all children, sometimes with their parents and/or siblings, and I talked to them about problems they may be having in school, with friends, and in their home.
Outside of individual sessions, I spent a lot of time in group therapy sessions with children who have various developmental disorders. In group therapy, we discussed social skills and played games to practice those skills. I facilitated some games and activities each week, and learned a lot about leading groups of young children!
What was an average day like?
An average day at the Children's Specialized Hospital consisted of two to three individual psychotherapy sessions, followed by a group therapy session, and ended with one to two more individual psychotherapy sessions.
What was the best memory you had interning?
The best memory I had interning was getting to talk to a young boy in an individual session who was having trouble with self-esteem due to academic struggles. It was my first time gaining experience in talk therapy, and I felt that it made a difference in his confidence. I really enjoyed getting to see him each week!
What have you learned from this experience?
I learned a lot about the ins and outs of working as a psychologist, as well as what different disorders may look like in different patients. At the end of my internship, I felt confident in my knowledge of symptoms and signs of several different developmental and mental disorders, as well as different ways to treat and address those disorders.
What is one skill you feel as if you've improved upon while at your internship?
I feel I've improved my skills of working with children with varying abilities. While I've worked with children in the past, this internship provided me an entire new set of skills in working with the population I aspire to work with in my career.
Do you have any advice for anyone who is applying for an internship?
Keep a log of each task you complete at your internship. This way, if you need a recommendation letter later on, you can remind your supervisor of all the great things you've done! This ensures that they'll write you a great letter.