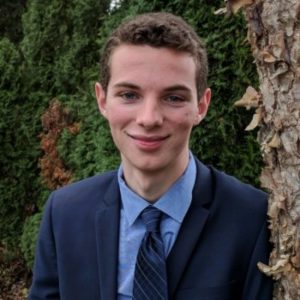 Name: Blake Capella
Graduation Year: 2020
Major: BS in Computer Engineering Minor: Physics
On-campus involvement: Member of the Institute of Electronic and Electrical Engineers (IEEE), Bonner Community Scholar, Inductee of Tau Beta Pi (Engineering Honors Society)
Internship: Carnegie Mellon University: School of Computer Science – Human Computer Interaction Institute in Pittsburgh, PA (May 25 – Aug 5 2018)
Describe your role.
I worked in a pair under three faculty advisors on an open-ended research project. This project was advised by the faculty; however, most decisions were left up to us. The work was innovative, and we are currently writing a paper to be submitted to a conference in Spain this winter.
What was an average day like?
What we were focused on for the course of the program was to create a program capable of classifying full body exercises through a Kinect depth camera. Although there has been a lot of research into how to use the Kinect's capabilities to help patients complete simple exercises, (e.g. moving leg, bending elbow, etc.) there has never been anyone who used the Kinect for exercises that use the entire body. In our project, we used a set of approximately 10 yoga back stretches with 9 different students and 10 reps each, and trained the computer to distinguish between the exercises.
The hours were very flexible as long as you worked 7.5 hour days. I would commute from my apartment and arrived at 11am, have lunch around 2pm, and left at 6:30pm. Evenings were either spent with friends or working on personal projects. Work location was flexible, either on campus or at local coffee shops in the city. Dress code ranged from pajamas to collared shirts.
What was the best memory you had interning?
At the end of the summer the faculty hosted a BBQ where we played volleyball and socialized with our fellow interns. The experience really captured the friendship and relationships we had built over the summer with the other faculty and students, and will stay with me for the rest of my life.
What have you learned from this experience?
The list is endless! One of the obvious answers is about the world of graduate school and academia. Our professors offered a lot of wisdom about the process while we were there. I've also learned how to think like a researcher. As engineering students, both my partner and I were goal oriented and thought very sequentially, so we initially treated the project as an assignment. By the end of my experience, our mentors had taught us to be flexible and comfortable with modifying our goals on the fly based off of any new results we may find.
What is one skill you feel as if you've improved upon while at your internship?
A very easy answer is my technical skills. In order to accomplish our goals, we taught ourselves countless skills (including learning the Python programming language from scratch)!
Do you have any advice for anyone who is applying for an internship?
My advice is to shoot for the stars! Apply to programs you might be hesitant about and apply somewhere that might not be exactly up your alley. Start applying earlier than you think, and to more places than you think you should!