March 2019 By Kim Tang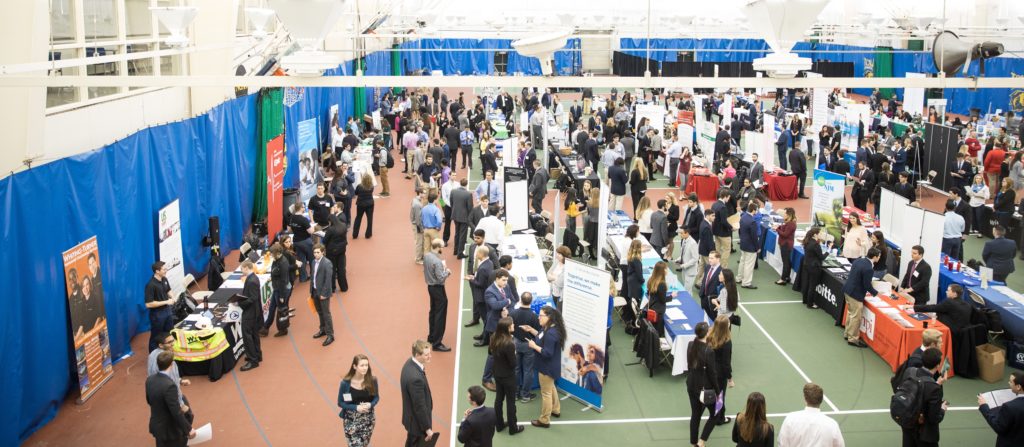 The Career Fair is approaching, and the Career Center has some tips on how you can make the most of the day!
1. Get your resume checked before the fair.
Swing by the Career Center during open hours and have your resume checked before the fair — you'll want to make sure your resume is as good as it can be!
2. Print out multiple copies of your resume and bring them in a portfolio or folder.
Have enough copies of your resume to hand to the employers you're interested in, and then a few more just in case you see any employers at the fair that catch your eye. Speaking of employers…
3. Research who's coming to the fair in advance.
You can see which employers are attending the fair at tcnj.joinhandshake.com or using the Handshake app! Researching the employers in advance can lessen the feeling of being overwhelmed by all the companies when you enter the venue. By knowing who's coming to the fair, and who you're interested in, you can make use of your time and ensure that you can meet with your priorities first, and use any extra time you have to explore. Researching in advance can also help you when talking to recruiters at the table! Research also shows that you to
4. Plan your outfit.
Come dressed in business professional attire! Wear comfortable shoes, and treat the fair like you would an interview. First impressions can make a big impact later along the line.
5. Master your elevator pitch.
You'll want to be able to nail your elevator pitch when you approach the table, so practice in advance! You might not have a lot of time to talk at each table, so make sure what you say is impactful and sells who you are.
6. Greet the recruiters with a firm handshake, and be open to conversation.
The venue is going to be loud, so speak up and listen! Treat the conversation like a mini-interview, and put your best foot forward. The conversation might be a bit more relaxed than a traditional interview, so go along with it and try to be as much yourself as you can.
7. Ask for a business card at the end of your conversation.
Much like an interview, ask for a business card at the end! This is especially important for if you want to reach out to inquire about any potential openings, and possible interviews.
8. Make the most of your time there!
Walk around and see what else is at the fair — maybe you'll find a company you didn't notice on Handshake. It never hurts to see what else is there.
9. Follow Up.
Reach out the representative you met at the fair on LinkedIn or send them a quick email. Be sure to include some details from your conversation at the fair, and thank them for their time. Going this extra mile will help you stand out, so long as you're being genuine and not just copy-and-pasting a message. Connections and building a network are a big part of finding careers!
Hopefully these tips will help you feel at ease at the fair, and remember — use this time to see what's out there, and come in with an open mind. It never hurts to see what's out there, and what better place than the Career Fair to start your job or internship search?