Name: Christopher Camacho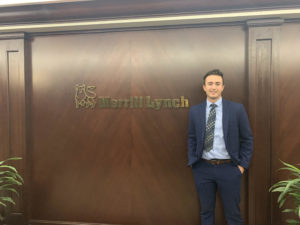 Graduation Year: 2021
Major: Finance Minor: Information Systems and Technology
On campus involvement: Oral Proficiency Program Spanish Class Leader, Oral Proficiency Program Assistant Coordinator, Student Government, Club Baseball
Where and When did you Intern: Merrill Lynch Wealth Management in Princeton, NJ
How did you hear about the internship and what was the interview process like?
I heard about the internship from a TCNJ grad. I sent in my application online and after a few weeks I was called in to interview. After three rounds of interviews, I was offered the internship.
Describe your role.
I am the first point of contact for a Global Wealth & Investment Management team that manages over $200 Million a year. Working with a team of financial advisors, I conduct fund research, create financial insights, prepare client review documents, and assist in the day-to-day operations.
What was an average day like?
An average day consists of creating morning reports reflecting the previous days stock trades, daily deposits, and other key metrics. On most days, I attend team meetings, direct client phone calls, prepare financial documents and conduct securities research.
What was the best memory you had interning?
I loved attending team meetings. It was a great chance for me to get to know my team and grow closer with them. Work is fun when you have a great team.
What have you learned from this experience?
I learned to always have a positive outlook and never to limit myself. Many times, I was asked to do tasks that I did not know how to do. However, with the help from my team, Google, and a little patience I was always able to figure it out.
What is one skill you feel as if you've improved upon while at your internship?
One skill that I improved on is problem-solving skills.
Do you have any advice for anyone who is applying for an internship?
Apply, apply, apply! Put yourself out there and great things will happen. I applied to this internship not knowing what to expect. And now I can see myself starting a career at this company and with my great team.