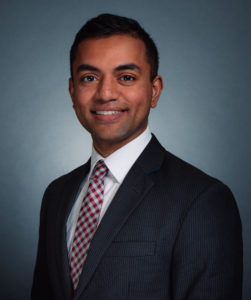 Name: Darshan Kalola
Graduation Year: 2020
Major: Computer Science, 7yr Medical Program
On-campus involvement: Table Tennis Club President, Association for Computing Machinery
Internship: AT&T Research Labs Middletown, NJ (Summer 2018)
Describe your role.
I worked as a software engineering intern alongside other engineers to write code and develop an SMS based Chatbot.
What was an average day like?
I would arrive at the office around 9:00AM, then check my email and calendar for the day. I usually met with my supervisor once in the morning and again in the afternoon. We discussed my progress on my assigned project and future goals. Around 12PM, I would have lunch with other interns in the AT&T cafeteria. Around 1PM, I would return to my office and start work again. About 2-3 times a week, interns went to talks given by senior leadership. Some topics included cyber security, advertisement models, and the FirstNet network.
What was the best memory you had interning?
The best memory I had was presenting my work at the end of the summer. I had to create a PowerPoint and explain to my fellow interns, their supervisors, and our senior VP what I had accomplished. It was great to hear the other interns projects, as well as share what I had been working on.
What have you learned from this experience?
I learned how important it is to be timely, courteous, and professional at all times. It truly is important to foster a good work environment and be as productive as possible. I also learned a great deal about writing code collaboratively. It is a very detailed-oriented process and extremely rewarding.
What is one skill you feel as if you've improved upon while at your internship?
I definitely became more resourceful. I didn't have many of the skills I needed to work on my project when I first started. I had to constantly refer to the Internet for resources to help me learn new programming languages and frameworks. I learned how to find the information I was looking for independently, without anyone's help.
Do you have any advice for anyone who is applying for an internship?
Make sure to apply early and apply everywhere. It's a great experience to have and helps you improve your skills tremendously, so try your best to get one, even if it's at a small or local company. Proofread your resume and have other people look over it too. Lastly, try not to take things to heart, especially rejections. It's a competitive environment but as long as you try your best everything will work out.